When many people in the western world hear of Singapore, it's often the Singapore Sling cocktail that comes in mind. Most people don't really know where the country is and would probably never consider it as a travel destination. For any trip to southeast Asia, especially on longer excursions to multiple countries, country is worth a stop as it provides a nice change compared to the usual crowded, polluted and chaotic large cities of Hong Kong or Bangkok. Singapore is an island, country and city all rolled into one.
Singapore
Compared to other destinations in southeast Asia, country is ultra clean thanks to its somewhat restrictive government. There are heavy fines for littering, spitting in the streets and jaywalking. It's even illegal to bring in chewing gum into the country. Drug offences can result in death penalties so travelers definitely should not take the risk by bringing any illegal narcotics into Singapore. But the result of all the tough laws is a place in the region that is quite low in crime rates. It is one of the safest destinations for female travelers where equality is encouraged.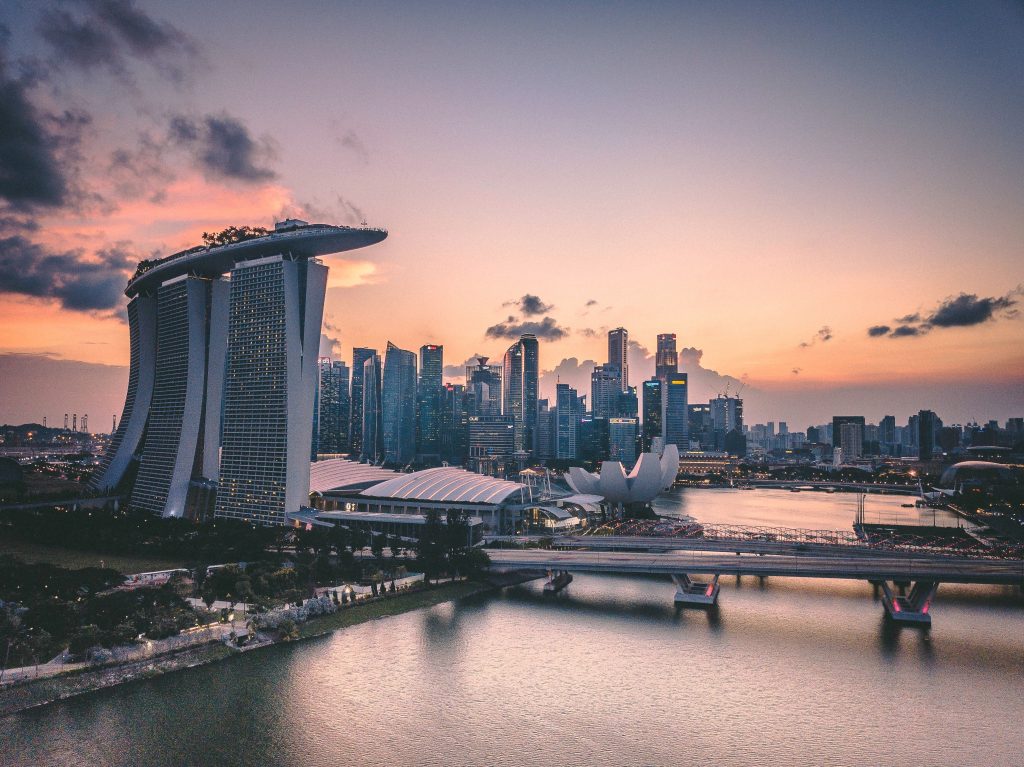 High rise buildings
With its gleaming high rise buildings, Singapore is one of the most modern cities in Asia due to its economic success. It also makes great efforts to make itself presentable and beautiful. On the trip from the international airport to the city center, it can be noticed that the bridges passing over the main highway are covered with orchards and flowers. This is something that one doesn't see often anywhere else in the world.
City Conditions
The city center itself is well designed with the country river running through it. River cruises are available to take in the local sights from the water. There are numerous outdoor cafes, restaurants and shops along side the river which makes for a pleasant stroll. Because of the hot temperatures here since Singapore is pretty well on the equator line, the city can feel like a giant sauna. So extended walks are suggested in the early mornings, late afternoons or evenings when things get a bit more comfortable rather than in the midday hear.
Population
Singapore with its mixed population including Chinese (77%), Malay (14%) and Indian (7%) is a case study in multiculturalism. Everyone here lives and works together in harmony. Only in Singapore can one see a Buddhist temple, a Hindu temple and an Islamic mosque all in close proximity to each other. The country has four official languages being English, Mandarin, Malay and Tamil.
Advantage
One of the great advantages of such a multiracial scene is that there are different ethnic neighborhoods to check out including Chinatown, Little India and Arab Street. All have their own distinct flavors in little shops, markets and cuisine. In addition to restaurants, there are outdoor food vendors which serve very low priced meals so one can dine well at any budget level.
Horticulture enthusiasts,
For horticulture enthusiasts, Singapore is a gold mine where there are world class gardens including the Singapore Botanic Gardens as well as the Chinese and Japanese Gardens. For nature lovers, there are some interesting attractions including the Jurong Bird Park, Jurong Reptile Park, Singapore Crocidilarium, Singapore Zoological Gardens and the very unique Night Safari which is open only during evenings. Sentosa is a small resort island south of the city with a scenic cable car, an aquarium and some nice beaches.
Addition
In addition to the modern skyline and the contrasting ethnic temples, there is still some wonderful colonial architecture including the famous Raffles Hotel where the Singapore Sling was originally invented. If one wishes to stay indoors during the hot midday sun, there are several museums including the National Museum to take in.
Parks
Singapore has some Asian theme parks such as Tang Dynasty City which is a recreation of life during 7th century China and Haw ParVilla Tiger Balm Gardens which has colorful statues depicting Chinese mythology. High end boutique shopping for fashion and electronics will be concentrated on or near Orchard Street.
idea to take a quick organized city tour
It is a good idea to take a quick organized city tour to get an overview of what Singapore has to offer. Then tourists can easily take advantage of the very efficient bus and subway system known as Mass Rapid Transit (MRT) to go pretty well anywhere on the island for selected sights of interest.
About Singapore
A nice thing about Singapore is that it is pretty compact and easy to get around. It won't take long to see all the sights and attractions one would be interested in so even a few days is all that would be required. Singapore would be the much needed change of pace within a longer hectic southeast Asian tour.