The Road Trip Less Traveled. When President Eisenhower signed the Federal-Aid Highway Act 50 years ago, he may have started the glorious tradition of the great American road trip. Seasoned travel writer Eric Peterson takes full advantage of the public works project, and in his book "Ramble: A Field Guide to the U.S.A." reveals some brilliant, off-the-beaten-path landmarks you won't find in a typical guidebook. And with Microsoft Streets & Trips 2006 with GPS Locator, you can plan stylized getaways to unique destinations such as those Peterson has discovered.
Ale, With A Sideshow
Of Bad Art
The Road Trip Less Traveled
Whether you're a high roller or a rock 'n' roller, the Northeast offers something for everybody. Where else can you grab a bite at the Big Apple's oldest bar, McSorley's Old Ale House in Manhattan, take in a sideshow on Coney Island and still make it up to Dedham, Mass., for a stop at the Museum of Bad Art-all in a day?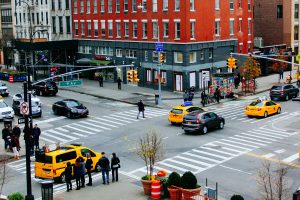 the Important point about these articles"The Road Trip Less Traveled"
A Mason-Dixon Good Time
After eating a drumstick in Gainesville, Ga., where it is illegal to eat fried chicken with utensils, head to the birthplace of miniature golf in Fayetteville, N.C. Save a day to tour the Jim Beam bourbon distillery in Clermont, Ky., but make sure to see Elvis at Graceland in Memphis, Tenn., before overnighting at the Shack Up Inn in Clarksdale, Miss.
go through all these"The Road Trip Less Traveled"
Chili, Hoosiers and Jazz
When in Cincinnati, eat as the locals do and get some chili-smothered spaghetti for the road-then fight off heartburn in David Letterman's Alley in Muncie, Ind. After a nap and an antacid, visit the Green Mill in Chicago, one of Al Capone's favorite clubs, and take in some of the best jazz in the country.
Rope and Road Trip
For road trips, Texas offers a bit of everything. In Amarillo, you'll find the Cadillac Ranch, where spray-painted Cadillacs become an art. In Dallas, you might uncover the conspiracy on the grassy knoll, and in Austin, you can enjoy the nightlife on famous Sixth Street. Whatever you do, remember the Alamo.
the key role for"The Road Trip Less Traveled"
Bigfoot, Bubble Gum, And Trolls
Over the Rockies lies a land of wonder with some oddities thrown in for good measure. In San Luis Obispo, Calif., you can add your chewy mark to the offbeat work of art known as Bubble Gum Alley, then travel up Highway 101 to Northern California's redwood forests, allegedly the domain of Bigfoot. If you fall in love on your trip, get married at Voodoo Doughnut in Portland, Ore., or just get a mammoth apple fritter to go. Visit the graves of Jimi Hendrix and Bruce Lee in Seattle, but beware of the Fremont Troll lurking under the Aurora Bridge.
Once you decide between finding Bigfoot or visiting the Museum of Bad Art, the next step is getting there.
please share your worthful feedback about these articles"The Road Trip Less Traveled"