The 10 Commandments Of A Super Safari.So you are going on safari? Well congratulations but have you what it takes or do you even know how to make a memorable safari no matter where in Africa you are traveling?
Count yourself lucky if you didn't have a clue, and if you are one of those first-time travelers to Africa with no clue what to expect or even how to go about packing for that trip of a lifetime because I'm about to give you a few tips.
Trust me this could easily be the experience of a lifetime, Africa has a lot to offer, so forget those media images you see of poor and famine-stricken Africa.
The 10 Commandments Of A Super Safari.
Oh and you might also want to put away those images of Tarzan in Africa with wild animals always attacking him. The creator of Tarzan never visited Africa and most of the episodes were filmed in southern California.
What I'm about to share with you should be extremely useful so don't discard it. You will be glad you read it.
I call them the Ten Commandments because I believe that these are ten things that anybody going on safari should take into account.
Commandment 1.Thou shall not forget thy camera.
Sounds obvious for those who don't leave their cameras behind,
Or those of us who have expensive cameras with all those fancy buttons that we haven't really figured out how to use yet, this would be one of those reasons why we spent a fortune on them.
But how about those of us who may not be good at taking pictures or have never taken any except of course those moments when a family member or a stranger asks you to take them or your idea of a camera is your phone with that 2 megapixel.
The 10 Commandments Of A Super Safari.
If I was to recommend a camera for a safari it would have to be a 35mm camera with automatic exposure and interchangeable Lenses. For the best results in photographing wildlife and birds, you should have a zoom lens. Remember to bring extra batteries for every camera and flash unit.
Commandment 2 Learn thy neighbor's language.
In most parts of Africa, you will find that English or French are the official languages but sometimes there will be a national language.
This is simply a language that most locals will speak. In Kenya and Tanzania for example, Swahili is considered the national language although most locals can speak English you will sometimes encounter those that don't. It helps if you can say a few basic words in the local language.
The 10 Commandments Of A Super Safari.
You will also soon discover that when you can say a few words in the local language you will often get special results.
A simple guide to pronunciation:
an as in father,
e as in bed,
I as in tin,
o as in or,
u as in truth
Helpful Words and Phrases in Swahili should you be headed to East Africa.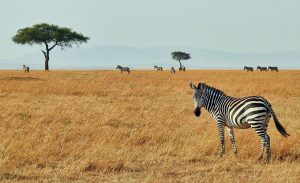 General
Hello! Jambo!
How are you? Habari?
Good, fine, very well Nzuri
Bad Mbaya
Thank you (very much) Asante (sana)
Please Tafadhali
Good-bye Kwaheri
Welcome!/Nearby Karibu
Danger Hatari
Friend Rafiki
Sorry Samahani, Pole
Excuse me, please Samahani
Commandment 3 Thou shall not drink tap water.
Avoid drinking water from the tap. You can buy bottled water in most lodges and camps. Soda, beer and other beverages can also be purchased at lodges and camps throughout the safari. This is because in most places in Africa tap water isn't that safe to drink.
4. Mind thy clothing.
Bring very casual summer clothes that are easily laundered and dry quickly.
Visitors on safari have traditionally worn olive, tan or other neutral colors. These clothes reflect the heat, don't show the inevitable safari dust, and do not stand out when you are trying to look inconspicuous on a game drive. With cool temperatures in the early morning and evening, layering is the best approach. Laundry service is available in most places so you can replenish your supply of clean clothing as you need it. Much of the time on safari is spent in a van, so lightweight and comfortable walking shoes (tennis shoes or desert boots) are appropriate; hiking boots are not necessary. The style in Africa is casual, even in the evening.
You will be in the sun a great deal, and at these altitudes, it is easy to sunburn very quickly. A complimentary safari hat is given to each of our guests, so you will not need to pack one. Do pack a swimsuit and cover-up, as some of the properties have lovely swimming pools.
5. Check thy safari checklist.
So what is a safari checklist?
These are items you will often find useful and you might want to bring along on your safari.
Alarm Clock " travel size
Converter/Adapter- electricity is 220V. As outlets vary you should travel with a set of international adapters
Batteries " extras, for all of your appliances and cameras
Calculator " pocket size for currency conversions
Camera equipment and film
Chapstick and moisturizing cream
Correspondence address list
Hat, visor, or scarf
Insect repellent with DEET (20%)
Keys " extra set of luggage keys
Laundry soap
Medication " over-the-counter or prescription medicine you take on a regular basis
Passport, traveler's cheques, credit cards, driver's license, a copy of your passport
Pen and paper for notes
Prescription glasses if you wear them (and a copy of your prescription)
Reading materials
Sunglasses (two pairs in case one is lost or misplaced)
Sunscreen
Tissues and moist towels
Toiletries and cosmetics
Commandment 6 Thy credit cards thou shall find useful
American Express, Diners Club, Visa, and MasterCard are widely accepted in most African countries including Kenya, Uganda, Tanzania, and Zanzibar while you are major towns.
Commandment 7 Thy driver shall be thy guide and teacher
Whenever you are on safari in a tour vehicle you will always have a trained driver who you should consider a companion and teacher, giving briefings, answering questions,
and providing insights that will help make your journey even more memorable. Each one is a seasoned professional, speaking several languages including local dialects, with an in-depth knowledge of the cultural and natural environments you will see along your way.
Commandment 8 Thou shall take care of your property and valuables
Normal care and sensible precautions should be taken as you would in the United States, the UK, Europe or other parts of the world. Do not leave cash, jewelry, or traveler's cheques unattended in hotel rooms. Most Lodges or hotels have safe deposit facilities for your valuables.
Commandment 9 Remember thy passports, visa and to keep them valid
All travelers must have current passports valid for 60 days after the expected departure date from Africa.
Commandment 10 Remember thy insurance.
Travelers should have medical insurance, as they will be responsible for all medical expenses they may incur. Trip cancellation insurance is strongly advised. The cost of your safari is an investment that you will want to protect.
Finally, I could call this commandment 11 but it just wouldn't sound right, so I'm going to refer to it as the bonus commandment.
Thou Shall Learn To Bargain
Most travelers to Africa are not really used to bargaining for their goods. But in Africa, unless you are in a supermarket or a mall, it is expected that you bargain especially when buying curios or souvenirs. In Africa, it is expected that you bargain. I have said it time and again and will continue to do so until the last one is converted. Every time you pay that "special price" you make it more difficult for others after you who will find it harder to bring down inflated prices.