A luxurious beach resort in Barbados, the Sandy Lane
resort is a paradise for honeymooners. Offering a
combination of privacy, numerous activities, and
the first-class service, the resort is located on the
west coast of the island of Barbados. Sandy Lane
also offers three golf courses and a 47,000 square
foot spa. The resort also offers a white sand beach
and the Caribbean Sea.
The island of Barbados
The island of Barbados offers a tropical climate with
year-round temperatures that stay between 75 and
85 degrees. The nonstop flights to Barbados take
around 4.5 hours from New York City, making the
island one of the best beach vacation spots from the
East Coast.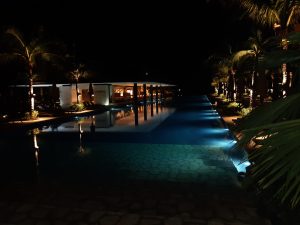 The country club at Sandy Lane Resort
The country club at Sandy Lane Resort is a golfers'
paradise. The resort spa, fronted by a waterfall
and swimming pool offers guests a combination of
relaxing and healing therapies from the Far East,
The Caribbean, and even Europe. For the ultimate in spa
indulgence you should try one of the nine VIP
treatment suites with a private landscaped garden
and three hydrotherapy pools.
Facilities at Sandy Lane Resort
The 112 resort rooms are both luxurious and very
spacious, with each one offering a plasma television
and high-speed internet access. The hotel also
provides 24-hour room service, and maid cleaning
service twice a day.
TreeHouse Club
If you plan to go on a family vacation, the resort
offers the Tree House Club, which is a special
facility designed for children 3 – 12. Kids here
can experience exciting thrills, such as swimming
with turtles and easter egg hunts. The resort
will also offer you and your family a number of
exciting water sports, tennis, and even shopping.
The signature restaurant, L'Acajou, serves French
cuisine that features fresh island seafood and
other local treats. The restaurant also offers
you an open-air setting on the waterfront, that
offers you breathtaking panoramic views.