There is no better way to ruin your Disneyland vacation than trying to walk around with blisters on your feet! It is vitally important that you wear comfortable shoes that are already broken in. You will be doing more walking than you normally would when you visit Disneyland.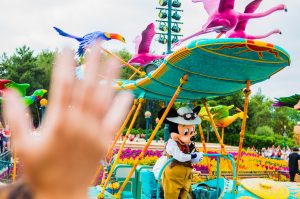 Bring a Change of Clothing to Disneyland
It is also important that you bring a change of clothing. You can rent a locker at Disneyland to store your extra clothes. You can rub your thighs raw if you ride water rides in denim shorts, then try to walk around while you dry out! Enjoy the water rides but then go change into dry clothing! Bring extra shoes as well. Walking around in wet shoes is not only uncomfortable; it can also contribute to blisters.
When Tired
More than blisters can cause discomfort. Some people simply are not used to being on their feet all day. If your feet are tired and sore at the end of the day, soak them in cool water with Epsom salt. This will offer more relief than soaking them in hot or warm water. After a good twenty minute soak, your feet will feel refreshed and ready for more walking!