Going to London on a budget? No worries there are plenty of things to do for free. It is a well-known fact that London is one of the most expensive destinations in the world, but thankfully it's also known as the city with lots of free and nice things to do. Here are our top 10 things to do and see for free when visiting London.
1. Trafalgar Square & National Gallery
Start from Trafalgar Square, the massive building right behind the monument to Nelson is a National Gallery. National Gallery is home to some of the worlds most impressive masterpieces including Michelangelo, Leonardo da Vinci, van Gogh Claude Monet, Sandro Botticellie and many more. The oldest paintings dated back from 1200 to 1500 ( room 51-66). You can wander the gallery for hours. Free admission.
2. Natural History Museum
If you love geology, dinosaurs and animals this place is definitely for you. Nice and interesting place to visit for all generations. Be advised that it gets really busy on Saturday. Best time to visit is in the morning during the week.
3. Victoria & Albert Museum
V&A museum is the worlds largest museum of design and decorative arts. It was founded in 1852 by queen Victoria and King Albert. Be aware not all exhibitions are free of charge.
4. Greenwich Park
Greenwich Park is one of the oldest parks in London with the spectacular view of London from the top of the hill. It is where the 0 meridian lays and "divides" the world on eastern and western time zones.
You will have to pay to visit the Royal observatory, but you can still enjoy the park and area around for free… not a bad view for London on a budget!
5. Kensington Gardens
London on a budget doesn't mean you miss out on the royalty! Kensington Gardens is one of the Royals parks in London and once was a private's gardens to the Kensington Palace which is, by the way, a current residence of the Duke and Duchess of Cambridge. Princess Diana was also living there from 1981-1997. It is also a home to the Albert Memorial, the Peter Pan Statue, the Serpentine Gallery, the Round Pond and the Diana Memorial Playground all are free to visit.
6. The Changing of the Guard
Visit the Changing of Guard Ceremony that takes place every Monday, Wednesday, Friday and Sunday at 10.30am outside Buckingham Palace. Please note, hundreds of people going to be there to witness it, so come early in the morning to get the pest space.
7. The Harry Potter Shop at Platform 9¾
You can also visit and take some pictures of Platform 9¾ at Kings Cross station, the place where Harry Potter's adventure began. You can also step inside the magic shop to buy some souvenirs. The shop was designed to look like Ollivander's wand shop from the book.
8. Holland Park
Very beautiful and green park with peacocks freely walking around. Especially worth visiting in spring when flowers and trees blooming. The look is truly magical at Holland Park. Also, visit the Kyoto garden. It is inside the park. The Kyoto garden is a Japanese style garden waterfall, pond and Japanese maple tree was a gift from the city of Kyoto to commemorate the friendship between Japan and Great Britain.
9. Camden Town
Camden is a truly weird and unique area of London. You may have heard of the area because of Amy Winehouse who lived and died there, but apart from it, Camden is an "alternative" area in the heart of London. Nice restaurants, pubs, street art, shops and one of the best food markets can be found in Camden. Perfect way to experience London on a budget!
10. Visit Notting Hill Area
Notting Hill is a charming London Neighbourhood, with its beautiful gardens, cute cafes and colourful houses, the area has become one of the most instagrammable places in London. It is also where the "Notting Hill" movie was filmed. Check out the Portobello Road Market, you can find a great deal on vintage cloth, antique items, books and lots more.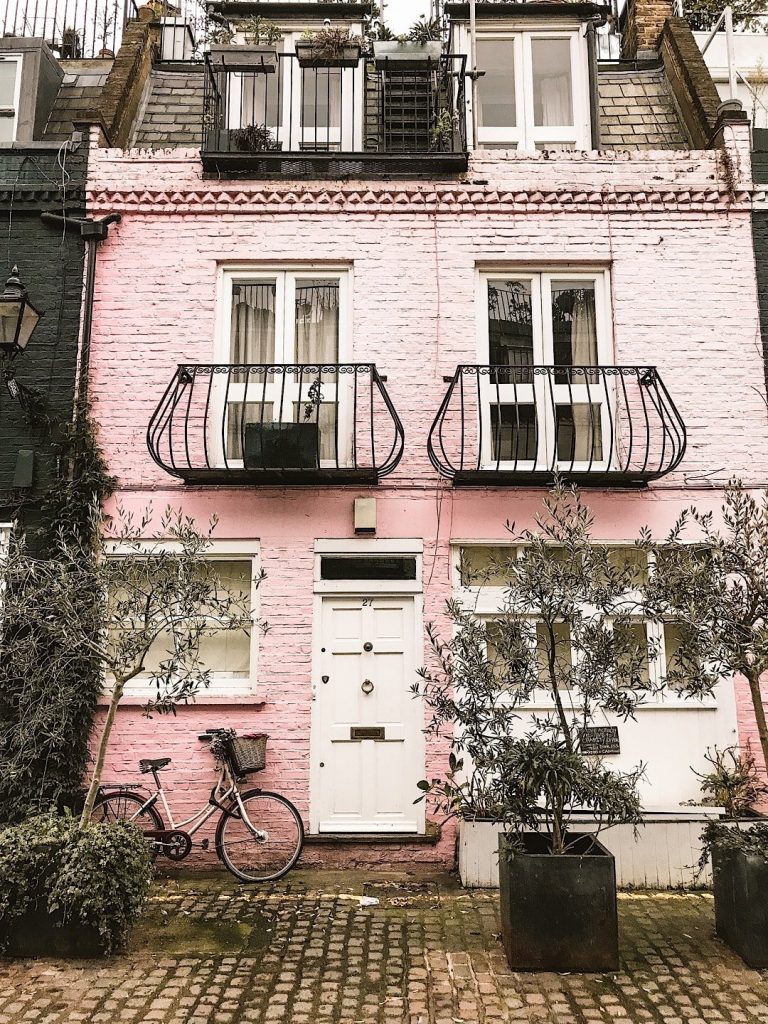 This wraps up our London on a budget list of ten places to visit. If you have additional suggestions, we'd love to hear about them in the comments!
Looking for more travel tips? FlightVillage has you covered!