Golf Holidays in Tunisia – Enjoy A New Experiment. Whenever someone plans his holiday vacation he puts emphasis on few basic things such as the location, the season, the activities and festivals he wants to enjoy and many other factors which create the essence of his vacation and then finally plans the budget accordingly. If you experiment a new thing with every holiday vacation, it can add new dimensions to your travel records. How about planning your stay in hotels which have golf courses nearby? Many might not have tried their hands in this game and many might not even have given second thought to that. But trying to play some shots like Tiger Woods and Arnold Palmer is not at all harm. So, choose your golf holiday destinations which have hotels as well as golf courses in close neighborhood.
Golf Holidays in Tunisia – Enjoy A New Experiment
If you plan to visit North Africa, Tunisia offers amateur as well as expert golf players the opportunity to try some strokes in various golf courses located close to sea or those adorned by palm trees. Golf courses at Hammamet, Djerba, Tabarka, El Kantaoui, Monastir and many other places in Tunisia are exquisitely designed and spread across vast acres of land. For playing in these golf courses it is not at all required to have a valid membership. And if you do not have a golf-kit, you can hire it from clubs at reasonable rate.
Other than the stunning landscape which attracts you to the golf courses in Tunisia, there are some other factors that can be helpful in determining your golf vacation in Tunisia. The climate and weather conditions also play a vital role in planning your golf vacation. Some like playing in extreme conditions, whereas few like to play in milder weather condition. As Mediterranean climate prevails in North Africa it creates favorable conditions to play golf in Tunisia.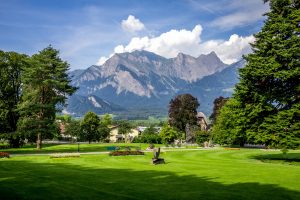 Playing golf is rather a challenging game but if you find favorable conditions conducive for playing golf then planning to stay in a hotel close to the golf course in Tunisia is not an unprofitable travel deal. Whether you are playing alone or playing with your friends, the extensive golf-courses in Tunisia take you across hills, sand dunes, olive grooves, beaches and the wonderful landscapes of Tunisia. So, book your hotels in Tunisia with golf courses nearby and add a new taste to your vacation.