European Golf Destinations For Family Holidays. Golf holidaying with a family presents its own special challenges. Keeping non-golfers in the family happy and feeling like they are having a real holiday, while at the same time getting your fill of golf, is worth that bit of extra travel planning. The following European golf resort holiday destinations are perfect for family holidays.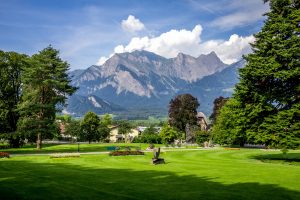 Central Algarve

Central Algarve, with its beautiful scenery, perfect weather, and exceptional golf courses, is one of Europe's top golfing destinations. Resorts such as Vilamoura, Quinta do Lago, and Vale do Lobo, and Vilamoura offer much more than golf and will provide non-golfers with all the holiday variety they would expect from a first-class resort. At Quinta do Lago, a 2,000-acre exclusive residential and recreational estate, you have countryside and pine forests, the Atlantic Ocean, and the Ria Formosa nature reserve as your playground, plus 72 holes of golf. Horse riding and tennis as well as a variety of water sports will keep your family occupied during the day, and there are classy restaurants, hip nightclubs for night-time entertainment, as well as the Bourganvilla Shopping Centre and a health club. The stunning two-mile stretch of golden-sand is a bonus.
European Golf Destinations For Family Holidays. Vale do Lobo, receiver of accolades such as "Best Resort of the Millennium", and the Algarve's largest leisure resort, has quality accommodation and diverse sporting facilities, including one of the largest tennis facilities in Portugal. Vale do Lobo, with its two (going on three) 18-hole championship courses, hosts around 100,000 golfers each year.
European Golf Destinations For Family Holidays
European Golf Destinations For Family Holidays Vilamoura, twice the size of Vale do Lobo, has tennis courts, a riding school, fishing and shooting facilities, and indoor and outdoor sports complexes, as well as five golf courses. Amazing vessels are moored at the large marina, home to restaurants, cafes and shops. A surprisingly cosmopolitan nightlife consists of bars, clubs and restaurants.
Costa Del Sol
Costa del Sol offers variety both on and off the fairways, and the mild winters and beautiful springs and autumns are perfect for golf. There are around 20 courses, leisure areas, playgrounds and family attractions, as well as beaches and seaside promenades. Three excellent water parks are open from Easter for the summer season, with water slides, pools for all ages and abilities, as well as picnic areas and restaurants. At a number of nature parks you can see animals and enjoy educational programs. Selwo Aventura has over 2,000 wild animals and an unrivalled nature reserve, and Selwood Marina has exotic birds, an underwater observation center, and dolphins. At the Benalmádena Sea Life Centre, an interactive underwater park, you can walk on the bottom of the sea and view thousands of aquatic species.
The Lisbon Coast
There are great golf courses here and the beaches are perfect for families. The scenery, magnificent with its small fishing bays and towering cliffs, and the superb local cuisine worth the trip alone. And nearby Lisbon, has all the diversity that a capital city can offer. Quinta da Marinha resort has leisure facilities including three salt-water outdoor swimming pools, a fitness centre with heated indoor swimming pool, six tennis courts and a tennis school, a Turkish bath, sauna, Jacuzzi, gym, massage room, bicycle hire, horse riding, and, last but not least, an 18-hole golf course.
Praia D'el Rey Marriott, just 60-minute drive from Lisbon airport, is a beachfront hotel with spacious family rooms, away from the tourist crush. The hotel has indoor and outdoor swimming pools, a health club, Jacuzzi and tennis courts. Nearby Obidos, a charming hill town set within 14th-century castellated walls, is a perfect day trip destination. And the Praia d'el Rey golf course, one of Europe's finest, is right on your doorstep.