The world is a pretty safe place for most travelers, but it's always good to be prepared for the worst case scenario. Here are some of the best travel safety tips to help you minimize the likelihood of something bad happening while traveling.
Check the State Department Website
Don't know where to get your information? The US Department of State has a page that contains information on all of the known dangers and threats to visitors, as well as travel advisories.
It's important to note that the US State Department's priority is to warn you about everything that could go wrong, which isn't necessarily what will go wrong. This means that advice is generally on the hyper-cautious side, but not necessarily what you will personally encounter.
If certain parts of Europe or South America are having problems, this does not necessarily mean that those places should be avoided completely. Studying travel warnings will give you a better idea of what's going on in the country and allow you to prepare ahead of time. Consider the US State Department's website as a good starting point for your travel safety.
Register with your Embassy
Your embassy is all about travel safety! This is a great way to get reliable, up-to-date safety information while traveling, with an added level of security in an emergency. The US Department f State has a Smart Traveler Enrollment Program designed to provide you with the latest security information. The best part is that if you're traveling on a budget, this service is free!
Canada has its own version of this called Registration of Canadian Abroad.
These programs – and registering with your local embassy in general – allows your embassy to share important information and assist with evacuations in the event of an emergency.
Travel Insurance
If you are really concerned about the travel safety and the safety of your equipment, we recommend securing good travel insurance. Not that you should let your guard down completely if you have travel insurance, but you can relax a bit more when you don't have to worry about your belongings… those can be replaced!
Learn Common Travel Scams
Everyone thinks they're too clever to be cheated. No matter where you travel in the world, no matter what you do, someone local will likely try to trick you away from your hard-earned money. We recommend that you check with local law enforcement or tourism bureaus to find out the most common and dangerous scams to your specific destination. Each country typically has its own special scams to watch out for, so being forewarned is the best way to combat any potential scam headed your way and is important for travel safety.
Lock Up Your Valuables
As we note in our article on travel safety for women, it's better to leave your jewelry and valuables at home or locked in the hotel safe.
While travelling with something super valuable is usually a bad idea, sometimes it's unavoidable. Your job is to minimize the obvious opportunities of theft.
Travel backpacks might be convenient, but they're typically not very secure. While you may feel safe knowing that your valuables are zipped up in a bag behind you, it's likely a false sense of security. Many zippers can be pulled off with a sharp object such as a pen, and usually the material is thin enough to quickly cut with a knife.
Always stay on top of your valuables and try to keep a close eye on them so that it is impossible for anyone to steal your belongings.
Write Down Emergency Info
If disaster strikes, you may not have time to look up the contact numbers for the local police or emergency services. Your research ahead of time can help protect yourself from a situation becoming worse due to stress, panic, and a lack of clear thinking.
Instead, you should record your information in advance and create an emergency plan that you can follow if things go badly. We also recommend writing everything on a small card or sheet of paper, having it laminated to protect it from moisture and keeping it in your wallet, purse, or carry bag. For travel safety, use the Evernote app or Google Keep, save it somewhere on your phone, and set yourself up for success.
Share Your Itinerary with Friends and Family
Once you've finalized your travel plans, an important part of travel safety is communication with your loved ones. It is best to email your full itinerary to a few family members, but don't just assume it has landed in their inbox. Confirm with them that your info was received and answer any questions they may have.
Notify Your Bank of Your Travels
Financial safety can sometimes equal travel safety. Imagine having planned your trip down to almost every last detail only to have your trip ruined because the bank thinks you're a thief and blocks your card during your travel.
Most banks provide an online services so you can inform your bank and credit card provider of your upcoming trip. If you fail to give your bank a head's up, your bank's fraud investigation department will likely end up notifying you that irregular activity has been recorded on your card and that the bank will stop all transactions until the situation is resolved, which can take days… and ruin your trip!
We recommend using a debit card at the departure airport as it will also help you to inform your bank about your trip and help with travel safety. If you are entering a new country or changing your travel plans, inform your banks as soon as possible.
Use ATMs Wisely
Just like notifying your banks of your trip is important for travel safety, you should always take a good look at the ATMs before using them. Pull out the card reader a little to make sure it's not tampered with and always cover the keypad with your hands when entering your PIN number into the ATM. This is good advice, especially if others are looking over your shoulder or trying to record your pins using hidden cameras.
If an ATM appears to have eaten your card, run your finger through the card slot to see if something sticks out.There's a trick called the "Lebanese Loop" where a thin plastic sleeve grabs your cards to prevent the machine from reading them. After you think your card has been eaten and walk away in defeat, the thief yanks your card and runs away.
If there seem to be signs of ATM tampering before you use the machine, go to the local bank and have someone come and check it.
Get Advice from Locals
If you really want to know if the neighborhood you're staying in is safe, ask the residents. Most locals are friendly and warn against getting lost in dangerous areas, but on the other hand it is also wise not to get advice from strangers. Instead of taking the word of a single local, it's in the best interest of your travel safety to compare and contrast the advice from several locals, including the front desk staff of where you're staying, and always trust your gut.
Don't Share Too Much Info With Strangers
It can be tempted to fire off a Facebook or Instagram post with your itinerary to create travel envy from your followers, but remember that it can be exactly what someone with bad intentions wants to know. Just as it's important to your travel safety to not post publicly your itinerary, it is also not recommended to disclose personal information about yourself to people you have just met.
For example, don't tell a local shopkeeper or street vendor where you are staying. If someone asks you, you should be vague about your neighborhood rather than the exact name of your hotel. While the intentions of locals may seem pure, it's possible they're refined scam artists and are looking to create trust with you.
Be Aware Of Your Clothes
This is another tip that we covered in our article for women's travel safety. Wearing appropriate clothes is a mark of respect to the local culture, and when it comes to travel, different clothing screams tourist and could make you a target for scammers, thieves, or worse. The less you are seen as a visitor, the less attention you get from the wrong people.
It is possible to abide by the law and still offend the locals with what you wear and create a lot of hostility. Ignoring or not acknowledging local customs can seem arrogant and ignorant, and put a target on your back by unsavory types.
Extra Travel Safety is Worth the Extra Cost
It can be tempting to save as much money as possible, but in exchange for cheap accommodations you might find yourself in more dangerous areas.
It is important to know that ultra-cheap hostels are not always the safest places to stay. Cheap flights can often arrive in the middle of the night, which means you'll need to find transportation to your destination and hope the driver doesn't abduct you. Opting to spend a bit more could make the different between safe and unsafe.
Do Not Use Your Back Pocket
Back pockets are the first place pickpockets will check and are an easy target. Your travel safety and personal safety are important, so changing your back pocket habit is key. While it may seem like a silly idea, sewing your back pockets closed when traveling isn't the worst thing to do if you're concerned about forgetting. Using a purse or anti-theft backpack is a much safer option, along with using your front pockets. If you make it difficult to become a target, pickpockets will look elsewhere.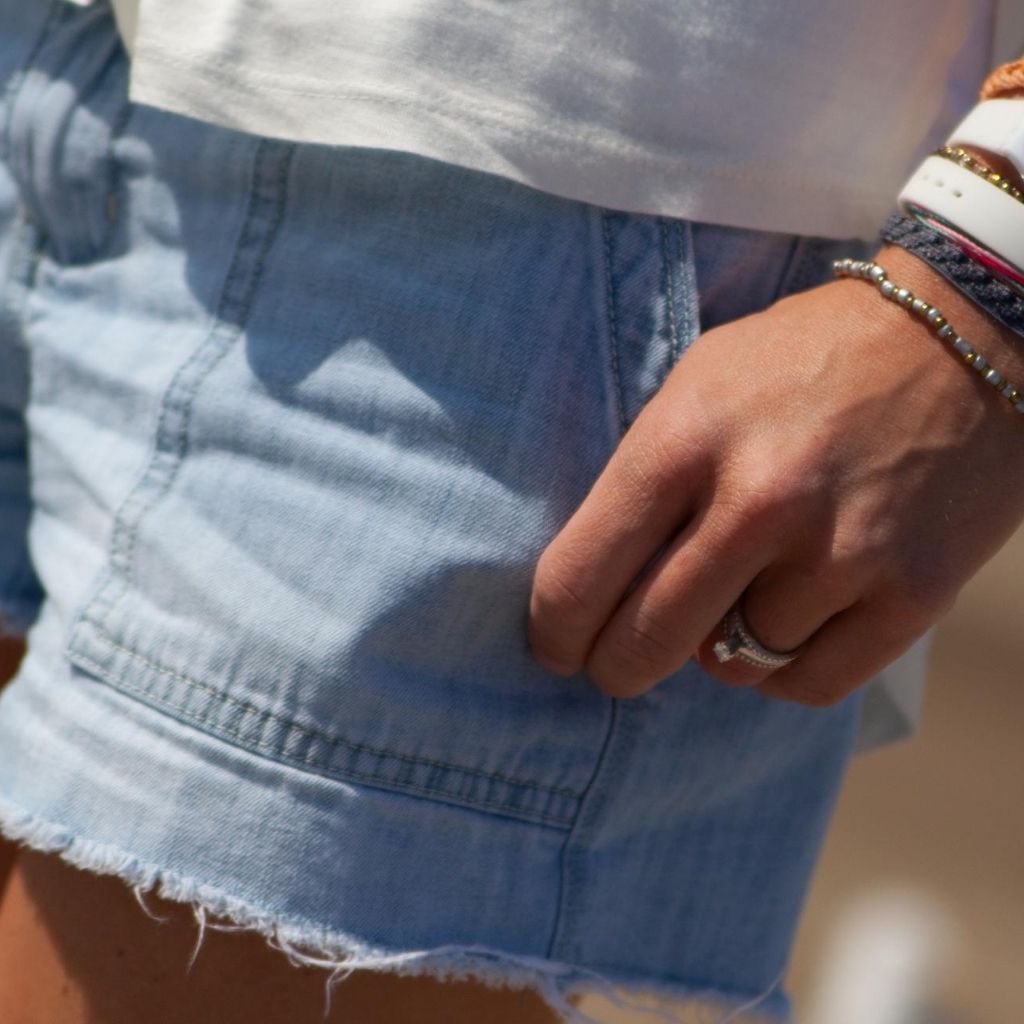 Never Set Your Bag Down
Most robberies happen because the thief manages to escape easily and time to get away because the victim is caught off guard. Anything that slows the thief down will help to prevent theft from happening in the first place. A simple and effective method is to use a snap hook or carabiner clip. If you can always tie your bag to something immovable, thieves will consider it too risky to work with and leave you alone.
Pack A First Aid Kit
No matter how minor an injury may seem, for your personal and travel safety, bringing along a first aid kit is a good idea. You don't need to go overboard and pack everything you'd need to perform surgery, but the below items are a great starting point:
Small pair of scissors
Latex gloves
Antiseptic wipes or alcohol swabs
Space blanket
Pain relievers
Anti-histamine tablets
Sunscreen and aloe vera
Rehydration salts
Space blanket
Petroleum jelly
Adhesive bandages, sterile gauze, and tape
Injuries can happen when you travel abroad, no matter how careful you are. Therefore, it is always a good idea to travel with a first aid kit, even if it is only a small one.
Travel in a Group
Travel safety always increases when traveling with a group. A group is a much more intimidating physical presence, helping to ward off predators of all kinds. If you are traveling solo, you should consider making friends while traveling, but always trust your gut and don't be too trusting with your new friends travelers.
Take A Self Defense Class
You don't need to become an expert in karate or Krav Maga, but attending a few self-defense courses is a worthwhile investment in your personal travel safety. Some of the best street styles to consider are indeed Krav Maga and Muay Thai.
Just because you can kick someone's butt doesn't mean you should in every situation, so learning when to use self defense is important as knowing the moves. A good way to neutralize a threat is to physically distance yourself as far from them as possible.
If someone with a gun or a knife just wants your cell phone or purse, give it to him, run and live! Use force and self defense only when there is absolutely no other option.
Project Situational Awareness
When you think about travel safety, it's important to be aware. Keep your head up, pay attention to your surroundings, stay alert and confident – the projection of confidence can prevent you from becoming a target. Body language plays a huge role in human communication, and a projection of confidence while traveling can deter the bad guys from making you their target. In general, you should be aware of who is around you and be focused – you should not look worried, lost or scared, even if you feel that way.
Food and Water Travel Safety
Even if you're the most experienced and well-seasoned traveler, local food and water can cause issues. This doesn't mean you should avoid the local cuisine and delicacies, because for many people, eating strange new foods can be the absolute highlight of their adventure around the world. Don't be afraid to experience the local menu, but it's better to practice safe eating techniques than to come down with food sickness.
Tips for finding safe food while traveling:
Eat at popular places
Long lines are usually indicative of quality food
Know how to express your food allergies in the local language
Fresh food and sanitation is important; try to see how your food is prepared
Opt for fully cooked food, even if you prefer your meat on the rarer side
In many modern cities around the world, water is safe to drink, but in some places it is not. Our recommendation for travel safety in terms of water consumption is to purchase or bring a filtered water bottle. and plastic waste is a huge environmental problem. Of course, you could still buy bottled water anywhere, but plastic waste is a huge environmental problem. Try and do your part through the use of reusable products!
Stay Sober
Those who party until the early hours of the morning are at a higher risk for danger. Stumbling around while intoxicated makes you more vulnerable, less aware of your surroundings, and brings about other dangerous situations. Avoiding the avoidable might seem obvious, but it's a tough travel safety tip to remember when you're out with your friends and are considering another round.
Keep yourself hydrated and nourished, be careful how much you consume, and make sure you don't lose control of the situation. Hard drugs are particularly risky and a good way to get into trouble with the police, who may not even be law-abiding. Your travel safety is more important than a night out!
In this article, we have covered many tips on travel safety. This article was written to help all who are planning to travel locally or abroad. With these simple tips, you can definitely enjoy your travels and not have any problems when it comes to being safe on the road. Do you have any other tips for travel safety? Share them in the comments below so that other readers can benefit from your wisdom!
Looking for more travel tips? FlightVillage has you covered! Or maybe you're ready to plan your trip – we can help with that too!